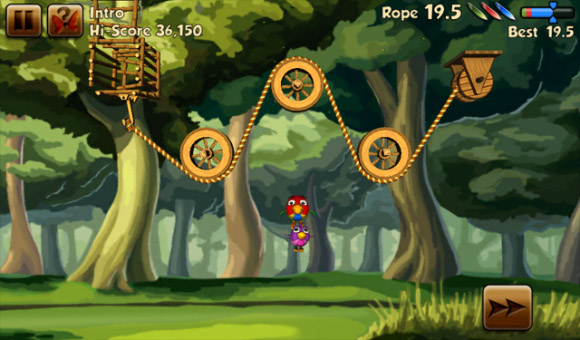 Tag:
PlayBook
Rope Rescue
Overview :
Rope Rescue 1.0.0.29 game for playbook - Drag a length of rope through a series of gears, and then finally attach it to the cage to release your friends. Pesky enemies, fire, and other rope-wrecking obstacles threaten feathered freedom.

Version: 1.0.0.29
File Size: 13 MB
Required: Tablet OS 2.0.0 or higher

Description:
Collect butterflies on the way for special bonuses, and try use as little rope as possible for maximum points.
Rope Rescue HD Highlights
•Puzzling levels will keep you wrapped up for hours.
•Addictive gameplay with multiple solutions for each level will have you playing for hours.
•Avoid flying knives, fire cannons and of course the evil bats.
•Collect or purchase butterflies to unlock later levels or provide hints to help you on your adventure.
•Visit the bird sanctuary to see the cute baby birds you have rescued.