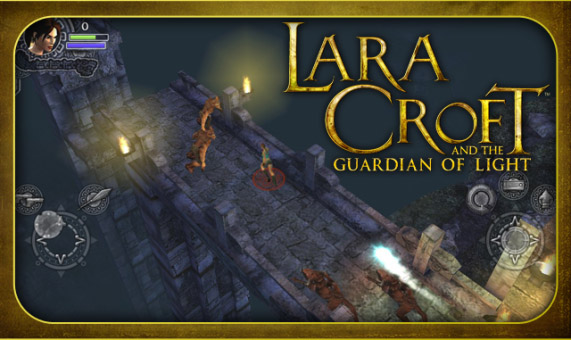 Tag:
PlayBook
Overview :
Lara Croft and the Guardian of Light v1.0 for blackberry playbook games - The wait is over! Fully optimised for the BlackBerry® PlayBook™, Lara Croft and the Guardian of Light is here, bringing the award-winning downloadable action/adventure to the palm of your hands.

Version: 1.0
File Size: 397 MB
Required: 2.0.0 or higher

AN INCREDIBLE ADVENTURE BEGINS
Join Lara as she ventures deep into the jungles of central America in search of the Mirror of Smoke, a powerful artefact from a lost age. Whoever wields this item holds the future of mankind in his hands, with the power to rid the world of light. With the Mirror now in the hands of Xolotl, the God of Darkness, Lara and Totec, the Guardian of the Mirror, have until sunrise to defeat him or else plunge the world once again into an age of darkness.
Take-on Xolotl and his armies of creatures with an all-new intuitive and accessible touch-screen control system, letting you explore the world and solve the puzzles at your own pace.
FEATURES
• Fast-paced action/adventure gameplay
• Breathtaking environments
• Focussed puzzle solving
• Player upgrades and unlockable weapons
• Console-quality HD graphics
Discover more great mobile games from Square Enix and great deals, plus the latest game updates, tips, and more!