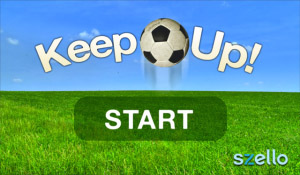 Tag:
PlayBook
Keep Up
Overview :
free blackberry playbook games: Keep Up v1.2.2
Required Device Software:
1.0.0 or higher
Description:
Keep Up! - The classic keep the ball in the air game is now available for BlackBerry® PlayBook™.
Simple to use, but incredibly addictive, this game is all about keeping the soccer ball up in the air. Just simply tap on the ball to bounce it up and try to keep it up for as long as you can.
With realistic physics, beautiful graphics, and local high scores, you'll be hooked as soon as you start playing!