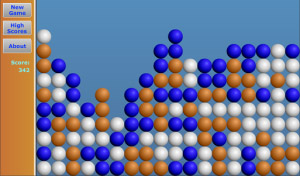 Tag:
playbook gam
Avalanche
Overview :
Avalanche v1.1.0 for playbook games
Required Device Software: 1.0.0 or higher
Details:
This is a version of the popular game known also as Same Game, designed for the BlackBerry® PlayBook™.
Clear the board by clicking contiguous balls of the same color.
Look for patterns and plan ahead to maximize your score by popping large groups of balls, and clearing the entire board for bonus points. The game will keep track of your best scores.