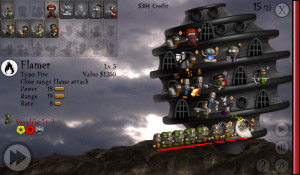 Tag:
Slice 3
Overview :
Slice 3 v1.0 for playbook games
File Size: 15899 KB
Required Device Software:
Tablet: 1.0.0 or higher

Description:
Fight hordes of Sci-Fi and Cyber-Punk villains trying to scale your Fortress walls. 45 Unique Fighters, 40 Addictive Levels of exciting combat. Create clever strategies with 7 damage types to defeat a wide variety of enemies.
In Campaign mode get new types of unit to command on each level. Each Campaign level has a Star challenge which unlocks a unit for Freeplay mode. In Freeplay you can use all your unlocked units to aim for high scores.
Sequel to "Slice Fortress Defense 2" a Fantasy style Tower Defense game.