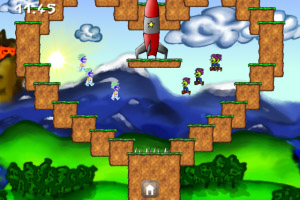 Tag:
Somyeol Jump
Run
Overview :
Somyeol Jump and Run v1.3.8 for blackberry playbook games
Required Device Software:
Tablet: 1.0.7 or higher
Description:
Somyeol is a 2D Puzzle Platformer, in which you have to rescue the almost extinct species of the Somyeols. Guide them home while controlling multiple Somyeols at once. Somyeol is a mix of Super Mario or Sonic like Jump and Run games and the classic game Lemmings.
Features:
- totally FREE
- unique Jump&Run
- over 100 fun and challenging levels
- 11 different types of Somyeols
- collect and find hidden trophys
- Scoreloop online highscore, compete with friends or players all over the world
- different input methods
The cute little Somyeols live happy and peaceful on their nice green planet Greensland . One day their planet got hit by a Meteor, because of the collision the somyeols are spread all over the universe. Things are far from simple ,however, as they are a vulnerable crowd that need plenty of help to reach the rocket so they can find a new planet. The only chance for the Somyeols to live together in happiness and peace is to rebuild a new civilization on the new planet.
Somyeol is a 2D Puzzle Plattformer in which the stranded Somyeols are guided as a team so now one is left behind. Try to get most of the Somyeols to their rocket so they can fly to the new planet. For each saved Somyeol you will get a specific number of points. To win the level you need a minimum score and you´ll get to the next level. The more Somyeols you´ll save the more points you´ll get and that means you´ll climb up in the global online highscore.
Somyeol can be played in 4 different input methods. You can choose between an accelerometer, one finger, touchscreen or the new GameBoy like method.
Do you have critique, suggestions or anything else feel free to mail us at support@somyeol.com!