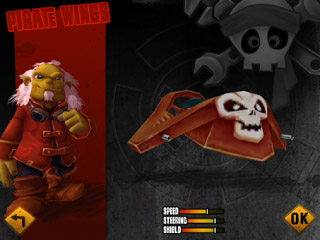 Tag:
Pirate Wings
Overview :
Pirate Wings v2.0 for playbook games - Pirate Wings v2.0 for playbook games - Meet Raoul and his strange friends in a new kind of game mixing Race and Shoot them Up.
Use your Playbook to ride at full speed on board of flying ships in stunning 3D graphics environments.

Version: 2.0
File Size: 13 MB
Required: Tablet OS 2.0.0 or higher

Three game modes are available:
- Races mode with 9 race circuits, 3 different environments (Canyons, Underwater world, Outer Space), 5 characters and 12 ships available for 3 levels of difficulty. Use your lasers, missiles, mines and boost to finish first.
- Story Mode where you'll discover the incredible adventure of Raoul, a canyon pilot who will ally with the space pirates to avoid the trap of the defiant commander Burp in 13 original missions.
- Ghost mode to improve your lap time and compare your scores online.