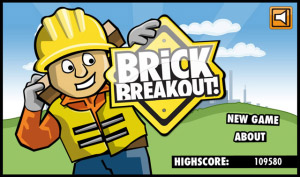 Tag:
Brick
Breakout
Overview :
Brick Breakout v1.0.41
Required Device Software: 1.0.0 or higher
Description:
** Save $1 off of the regular price of $2.99 for a limited time**
Brick Breakout is now available for PlayBook™ from Smarter Apps, the makers of award-winning apps for BlackBerry® smartphones.
Set to the theme of a construction site, prepare for full demolition! Become the breaker of wooden beams, classic bricks, pipes, concrete slabs, and watch as they crumble and shatter in your wake.
Unleash the devastating power of hidden power-ups which transform your paddle into one of many efficient tools to become the ultimate brick breaker! Seek out the power of multi ball madness, super balls that tear a path of destruction, the rapid fire of the nail gun, the super extended paddle, or sticky paddle for controlled strikes to break your targets into splinters. Also hidden beneath the debris, you'll find extra lives, score multipliers to earn points faster, and the most devastating force yet in your arsenal.
Be prepared for many hours of brick-breaking fun, crashing and smashing your way through the 33 levels that come free with Brick Breakout.
We hope you'll enjoy the classic arcade action that Brick Breakout brings to the PlayBook™.
Features:
- 33 action-packed levels
- Dynamic animated game environment with engaging video effects
- Many power-ups that give you extra lives, extra weapons or other surprising abilities
- Free upgrades to all existing customers forever
We hope that you enjoy playing Brick Breakout and we welcome your feedback for improving Brick Breakout.
If you like Brick Breakout, please write a great review. It will help us to keep improving Brick Breakout for PlayBook™. If you have any problems getting Brick Breakout running on your PlayBook™, please visit http://support.smarter-apps.com and we will help you to get up, running and breaking bricks.