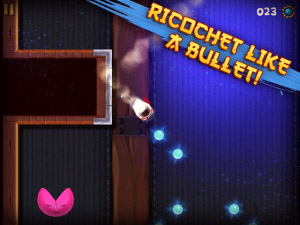 Tag:
PlayBook
ToFu
Overview :
ToFu v1.9.0 for playbook games
US$0.99
Required Device Software
Tablet: 1.0.0 or higher
Description:
Introducing To-Fu: the world's most malleable martial artist.
Join our stretchy protagonist as he gets ready to undertake the infamous 'Trials of Chi'. Stretch, ping, stick and rebound our little hero through 140 levels of treacherous booby-traps and mystical mechanisms as you try to conquer the trials and help To-Fu become the illustrious 'Master of Chi'
FEATURES:
------------
• Unique Stretch Control: Stretch and ping To-Fu using nothing but your finger. Controls that are designed exclusively for touch-screen. No buttons required!
• Substantial Challenge: 140 unique trials for To-Fu to master and perfect. Hours of gameplay and replay value.
• Booby-Traps: A plethora of obstacles to overcome: including 5 different surface types alongside an abundance of taxing traps.
• Truly Universal Experience: A game for everyone: from seasoned gamers to complete newcomers.
Join us:
http://www.facebook.com/tofuthegame
Follow us:
@HotGenLTD (http://twitter.com/hotgenltd)
Watch us:
http://www.youtube.com/user/HotGenVids