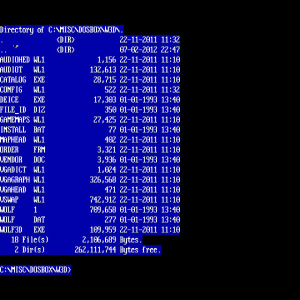 Tag:
DOSBox
Overview :
free DOSBox v1.0.0 for blackberry playbook games
Required Device Software:
Tablet: 1.0.0 or higher

Description:
DOSBox is a DOS-emulator that uses the SDL-library which makes DOSBox very easy to port to different platforms. DOSBox has already been ported to many different platforms, such as Windows, BeOS, Linux, MacOS X...
DOSBox also emulates CPU:286/386 realmode/protected mode, Directory FileSystem/XMS/EMS, Tandy/Hercules/CGA/EGA/VGA/VESA graphics, a SoundBlaster/Gravis Ultra Sound card for excellent sound compatibility with older games...
You can "re-live" the good old days with the help of DOSBox, it can run plenty of the old classics that don't run on your new computer!
DOSBox is totally free of charge and OpenSource.
General DOSBox information can be found at http://www.dosbox.com/
BlackBerry® PlayBook™ Specific Information
This is a port of DOSBox 0.74
DOSBox will create the following folder on your PlayBook™: /misc/dosbox/
DOSBox will create the dosbox-0.74.conf file and place it in the above folder.
This version of dosbox installs with the basic Touch Control Overlay. The mouse cursor will respond to your finger swipe however no othere touch buttons are on screen.
This default setup is best used with a blue tooth keyboard and mouse.
This version does support custom Touch Control schemas. If you place a properly configured sdl-controls.xml file with all associated .png files into the /misc/dosbox/ director this configuration will be used.
For more information on the Touch Control Interface please refer to: https://github.com/blackberry/TouchControlOverlay/wiki
For an example please refer to: https://github.com/a7omic/TouchControlOverlay/wiki/User-Created-sdl-controls-xml-for-DOSBox-example
All source code can be found here: https://github.com/a7omic
The originating source can be found here: https://github.com/blackberry

Come on, download this apps for your BlackBerry.