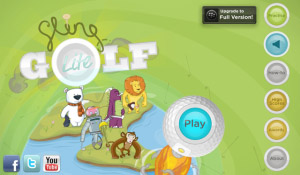 Tag:
PlayBook
Golf
Sling
bolt​clou​d
Overview :
free Sling Golf Lite v1.2.2 - blackberry playbook games
Required Device Software
Tablet: 1.0.0 or higher

Description:
Who says golfing is just for humans? Sling Golf Lite is a highly addictive and super fun HD game for the BlackBerry® PlayBook™ that offers multiple golf courses in which to play, with several different fun and exciting characters to play with, each with their own unique abilities and personalities!
** Winner of N4BB.com Reader's Choice award**
"After playing the 3 courses many times, I am hungry for more" - BerryReview.com
"Sling Golf is one of those successful PlayBook games which recruits many into becoming addicted to it." - PocketBerry.com

Features of Sling Golf Lite:
January 2012 Update - 2nd course - Winter Wonderland - now open to unlock and play for all users!
2 very unique and fun courses (buy full version for more! - see below for details)
18 holes in total
3 cool golf characters to choose from
Un-lockable achievements and awards
Cool animations and sound
Once you are done playing the lite version, be sure to purchase the full version with even more fun filled levels and courses.
Full version features:
- 2 additional new unique characters (Polar Bear and Lion), 5 characters to choose from in total.
- 4 additional challenging courses, 6 courses to play in total.
- 20 unlockable achievements and awards.
About the Developers
www.boltcloud.com
Innovative, Visionary
info@boltcloud.com