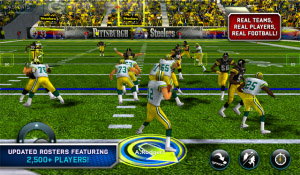 Tag:
PlayBook
MADDEN NFL
EA SPORTS
Overview :
MADDEN NFL 12 v1.0 by EA SPORTS
Required Device Software:
Tablet: 1.0.0 or higher

Description:
Real teams. Real players. Real NFL. MADDEN NFL 12. True to the Game!
BOOM! Feel the excitement of NFL Football, anytime, anywhere with Madden NFL 12 for BlackBerry® PlayBook™. With hard hitting action and beefed up rosters get the ultimate football experience!
GET IN THE GAME
Go deep with ultra-sharp gameplay and stunning graphics optimized for BlackBerry® PlayBook™. Feel the impact of every game-changing tackle with smooth, hard hitting animations.
AUTHENTIC NFL ACTION
Choose from the 32 NFL teams and battle it out in their true-to-life stadiums. Make trades, track stats, and launch winning strategies from in-depth playbooks, unique to every team.
CONTROL EVERY MOVE
Slow down the clock and make the play on both sides of the ball with Total Defensive Control (TDC) and Action Control Time (ACT). Pause the action and put your players in position to deliver game changing hits with TDC, or use Action Control Time to dominate defenses with dives, spins, jukes, and sprints.
DRAW HOT ROUTES EVERYWHERE
Draw up Hot Routes for passing, running, and defense. Even save your best (or craziest!) routes as audibles.
MULTIPLE MADDEN NFL MODES
Jump right in with Exhibition Mode, play through an entire 16-game NFL season in Season Mode, or relive the 2010/2011 playoffs.
Real teams. Real players. Real NFL. MADDEN NFL 12. True to the Game!