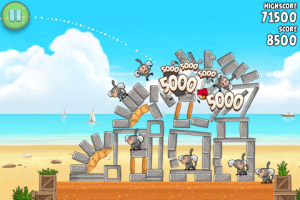 Tag:
Angry Birds
Rio
Overview :
Angry Birds Rio v1.3.2 games for playbook
Required Device Software:
Tablet: 1.0.0 or higher

Description:
What happens when everybody's favourite fierce fowl get caged and shipped to Rio? They get very angry!
In Angry Birds Rio, the original Angry Birds are kidnapped and taken to the magical city of Rio de Janeiro, where they eventually escape their captors and set out to to save their friends, Blu and Jewel – two rare macaws and the stars of the hit motion picture, Rio. Angry Birds Rio will pair the physics-based gameplay of the original game with unique twists based on the film.
Angry Birds Rio features:
- Four fantastic episodes with 135 exciting levels!
- Completely new achievements!
- Special Hidden fruits - discover them all!
- Put your Angry Birds skills to the ultimate test in a spectacular boss fight!
Follow us on Twitter for Angry Birds updates and pictures of our new toys:
http://twitter.angrybirds.com
Become a fan of Angry Birds on Facebook:
http://facebook.angrybirds.com