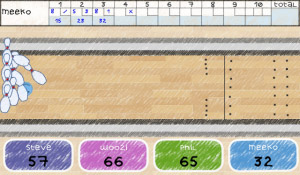 Tag:
Doodle
Bowling
Lanes
Overview :
Bowling at Doodle Lanes V1.1.0 FOR blackberry playbook games
Required Device Software
1.0.6 or higher
Description
Bowling at Doodle Lanes lets you enjoy fun and realistic bowling anytime! The full bowling experience, atmospheric sounds, the ability to customize your bowling ball and much more. Bowling comes to life with colorful graphics, accurate physics and cool sound effects. Enjoy Bowling at Doodle Lanes with your friends as 4 players can hit the lanes at one time.
It doesn't matter if you're a beginner or an expert. Do you like to put a spin on your ball? Use the accelerometer by tilting your PlayBook to add some english to the ball just the way you want it! Throw strikes like a pro and listen to the crowd go wild as you become a bowling superstar!
Get out your old bowling shoes and prepare for a fun experience with Bowling at Doodle Lanes.
One-thumb play.
Fun, crayon-like doodle graphics.
Customize bowling balls with color and weight.
Tilt to spin your ball.
Score sheet displayed for up-to-date information.
Enjoy playing with your friends - Up to 4 players in one game.
Editable player names.
Track your records for hi-score, strikes thrown, perfect games and more.
On-screen help.