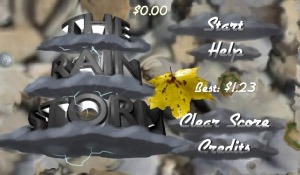 Tag:
Rainstorm
Overview :
Required Device Software
1.0.0 or higher
Description
Play with water and pilot a paper boat in a rain storm! Collect coins along the way! But watch out for leaves!
Realistic water ripple graphics and atmospheric sound give an unbelievably tranquil experience.
Now with partial HD graphics! The water effect is too intensive for flash to run at full resolution, but the boat and leaves are now high-res.
I am in the process of improving the game to make it more fun and add value to it. For more detailed updates, see http://jalanatherton.blogspot.com Feel free to send feedback or questions using the support button in App World or the support email address.
New in 1.0.2: improved control, multi-touch support, HD graphics, help page, crazy leaves, pause
Short summary of future development:
Coming up next (1.0.3+): movable leaves, multiple boats.
Coming up after-next (1.1+): levels, storyline, intelligent enemies, new gameplay mechanics, online high scores, achievements (maybe), upgrades (maybe).