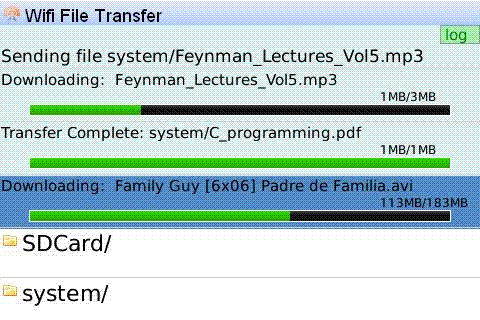 Tag:
WiFi
Transfer
Overview :
Wifi File Transfer apps for blackberry

Description:
Wifi File Transfer for BlackBerry allows the transfer of files from a PC or Mac directly to your BlackBerry over Wifi using your browser.
No need for Desktop Manager, Media Manager, USB drivers or any other 3rd party applications: Just a WiFi BlackBerry, PC/Mac with browser and a WiFi network.
What you need:
A BlackBerry (Wifi capable OS v4.5+) with Wifi File Transfer installed.
A PC or Mac with browser
A Wifi network.
Get Started:
Make sure your device and PC or Mac are on the same WiFi network.
Start "Wifi File Transfer" on the device. An IP address will be shown.
Type this IP address into the PC or Mac browser and start browsing your BlackBerry! Upload and download files directly from the browser.
*Supported browsers: Firefox (recommended), Internet Explorer, Safari.
*Available for all Wifi capable BlackBerrys with OS v4.5 and above
Features:
View the BlackBerry file system from the browser and transfer any files to and from device internal memory (900Mb for Bold) or SD card. Turn your BlackBerry into a memory stick!
Upload movies, pictures and music directly to your BlackBerry and view them with the BlackBerry device Media Player.
View and play pictures, music, PDF files etc. stored on your BlackBerry straight from the browser.
Browse, rename, delete, and create new folders on the BlackBerry from either the browser or the device application itself.

Minimum Requirements:
•PC or Mac with Firefox, Internet Explorer or Safari
•WiFi Network
Display Dimensions
160x160, 240x160, 240x240, 240x260, 240x320, 320x240, 360x480, 480x320, 480x360
Operating System
4.5, 4.6, 4.7 Non-Touch, 4.7 Touch Screen, 5.0 Non-Touch, 5.0 Touch Screen
Model:
Blackberry 82XX Series (240x320) Pearl Flip Devices Models: 8200, 8220, 8230/Blackberry 8350i (320*240) Related Devices Model: 8500, 8520, 8530/Blackberry 83XX Series (320*240) Curve Devices Models: 8300, 8310, 8320, 8330 / Blackberry 87XX Series (320*240) Devices Models: 8700c, 8700r, 8700f, 8700g, 8703e, 8707, 8707g, 8707v .etc /Blackberry 88XX Series (320*240) Devices Models: 8800, 8820, 8830 .etc /Blackberry 89XX Curve Series (480*360): 8900(Javelin), 8910(Atlas)/Blackberry 90XX Bold (Onyx) Series (480*320) Devices Models: 9000, 9020(Onyx)/Blackberry 96XX Tour (Niagara) Series (480*360):9600, 9630, 9650(Tour2), 9700(Bold2) /Blackberry 95XX Storm Series (360*480):9500, 9510, 9520, 9530, 9550(Storm2)/Blackberry Pearl 3G Series (360*400) Devices Models: 9100, 9105