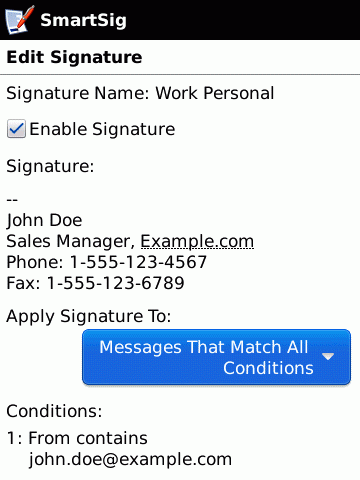 Tag:
bold apps
Smartsig
Overview :
free Smartsig Apps for blackberry os4.6
Tired of BlackBerry placing your email signature at the far bottom of your outgoing emails when the body of your message is at the top?
Then take control of your email signatures with the all new and more flexible SmartSig 2.0.
Create your email signatures in SmartSig and define the conditions that must be met for your signature to be applied to an email. If an outgoing email matches a signature's conditions then SmartSig will automatically place the signature directly below the body of your email message where it belongs. This is something the BlackBerry Internet Service can not even do properly.
If you write and reply to business emails on your BlackBerry then let SmartSig make sure your important business email signature is correctly placed directly below your email message where it belongs.
For more news and updates follow us on Twitter @SwiftRavenSoft

Model:
Blackberry 82XX Series (240*320) Pearl Flip Devices Models: 8200, 8220, 8230/Blackberry 8350i (320*240) Related Devices Model: 8500, 8520, 8530 / Blackberry 89XX Curve Series (480*360): 8900(Javelin)/Blackberry 90XX Bold (Onyx) Series (480*320) Devices Models: 9000, 9020(Onyx)