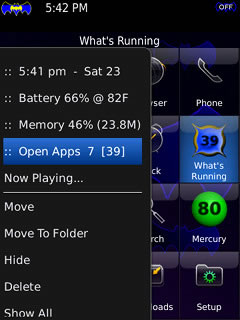 Tag:
9900
9930 apps
Scanmonster
Overview :
free Scanmonster for 9900,9930 apps
Model:
Blackberry 89XX Curve Series (480*360): 8900(Javelin), 8910(Atlas), 8930, 8950, 8980/Blackberry 90XX Bold (Onyx) Series (480*320) Devices Models: 9000, 9020(Onyx)/Blackberry 96XX Tour (Niagara) Series (480*360):9600, 9630, 9650(Tour2), 9700(Bold2), 9780, Dakota, Apollo /Blackberry 95XX Storm Series (360*480):9500, 9510, 9520, 9530, 9550(Storm2), 9570(Storm3), 9800(Torch), Torch2/Blackberry Pearl 3G Series (360*400) Devices Models: 9100, 9105, 9670(Style)/Blackberry 99XX (OS 7.0) Series (640*480) Devices Models: 9900, 9930
Description:
Avoid memory-related delays, instant/optimal-auto memory recovery, menus show free memory, visible & invisible running-apps counts, time, date, battery level & temp. Click for detailed meters, list invisible apps, deeper recoveries, log erase. Temp hi/lo monitor, overheat alarm.
Two icons show the estimated room temperature, and how many total (visible & invisible) apps are running. Click either for more information, including the highest and lowest phone temperatures recorded.
Menu example:
:: 12:10 am - Feb 5
:: Battery 87% @ 78F
:: Memory 51% (12M)
:: Open Apps 5 (39)
(If the battery is too-hot or too-cold, that is noted next to the reading.)

Click "Open Apps" to see what's running invisibly when you're experiencing problems, see which apps the running background processes came from; this can help you identify the cause. Force-delete apps and modules, start background apps and services that may have failed or not started after installation (this should help you avoid some resets).
Detailed meters (see screenshot) show file space free (internal, card, and app memory), RAM and Flash memories, virtual machine information, battery details such as voltage, charging rate, temperature, status flags.
"Mercury" icon is green when it's safe to charge, otherwise red or blue, plus a banner notification (OS 4.6+) when too hot or cold, and an overheat alarm which can be set to vibrate initially before sounding; you can silence it if necessary.
Click "Memory" reading for instant lossless recovery of RAM and Flash; gains are shown. Select deeper options, such as erasing caches, clearing the log, or a Deep Recovery which requests apps to free some memory.
Automatic features (selectable) include opportune timing of automatic lossless recovery, erasing of caches, and clearing of the log.
Click the time & date in the menu to open the built-in clock (if your phone responds to the request -- most do, some don't).

(Some menus block additions; the menu readings will appear in most menus, but not all. You can choose which items to show, and tweak where they appear.)

After installing, see Help / Info in the "What's Running" icon for usage information.

Scanmonster (formerly Memory Monster) can coexist with Memory Booster (by S4BB Ltd.), MemoryUp Pro (by EMOBISTUDIO), BerryJoose / BeJoose (by The Jared Company), or Brio Memory Guard (by Brio Mobile).