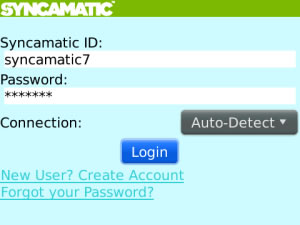 Tag:
9300 apps
Syncamatic
Outlook
Overview :
Syncamatic for Outlook - blackberry apps
Description:
Syncamatic is your answer for 2-way wireless synchronization. Further to syncing Contacts and Calendar, Syncamatic lets you create and edit Memos in your BlackBerry® MemoPad and save changes to your Outlook Notes folder. Important client contacts, meeting appointments, your To-Do list, and all of your important data can now be instantly and wirelessly pushed to your Microsoft Outlook. The setup is simple and straight forward, and it's free to use.
Features
2-way wireless sync between Outlook and BlackBerry®
Fully sync Contacts, Calendar, Notes, Memos, and Tasks
Use BlackBerry® native apps
Supports Wi-Fi, BIS connections and more
Auto suspend while roaming
100% FREE without expiry date
Affordability
Works with a BIS data plan. No Exchange server is required, just download and follow the setup wizard.
How-To
1. Download the provided link on your BlackBerry® device
2. When Syncamatic is finished downloading, click "Run", or find the Syncamatic application in your BlackBerry's "Downloads" folder
3. Choose whether you would like to create a new Syncamatic account or use an existing one, and then enter the requested personal information
4. Carefully follow the instructions in the Setup Wizard, and then click "Finish" to complete the installation
5. Wait for Syncamatic to finish its first synchronization
6. Download and install the Outlook Connector from www.syncamatic.com
7. In Outlook, select Tools - Syncamatic - Preferences and enter your Syncamatic ID and password
8. Next, synchronize Outlook by selecting Tools - Syncamatic - Synchronize Now and wait for it to finish
Keep using the FREE edition after the 30-day trial or upgrade to Syncamatic Premium (monthly fee) at anytime!
Model:
Blackberry 81XX Series (240*260) Pearl Devices Models: 8100, 8110, 8120, 8130/Blackberry 82XX Series (240x320) Pearl Flip Devices Models: 8200, 8220, 8230/Blackberry 8350i (320*240) Related Devices Model: 8500, 8520, 8530, 9300(Kepler)/Blackberry 83XX Series (320*240) Curve Devices Models: 8300, 8310, 8320, 8330 / Blackberry 87XX Series (320*240) Devices Models: 8700c, 8700r, 8700f, 8700g, 8703e, 8707, 8707g, 8707v .etc /Blackberry 88XX Series (320*240) Devices Models: 8800, 8820, 8830 .etc /Blackberry 89XX Curve Series (480*360): 8900(Javelin), 8910(Atlas), 8950, 8980/Blackberry 90XX Bold (Onyx) Series (480*320) Devices Models: 9000, 9020(Onyx)/Blackberry 96XX Tour (Niagara) Series (480*360):9600, 9630, 9650(Tour2), 9670, 9700(Bold2), 9780 /Blackberry 95XX Storm Series (360*480):9500, 9510, 9520, 9530, 9550(Storm2), 9800(Torch)/Blackberry Pearl 3G Series (360*400) Devices Models: 9100, 9105