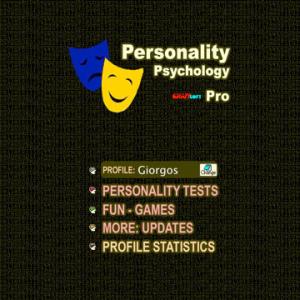 Tag:
Personality
Pyschology
Overview :
free Personality Pyschology for blackberry apps download

Description:
'Personality Psychology Pro' is a huge pack of personality tests and games presented in a pleasant / funny way. By these Psychology tests & games you can realize much more about yourself and about your companion. You can analyse your personality and find out what is on your mind.
You can use this program to understand yourself, to find more about a close person or to have fun with your friends. You can even impress someone by its accurate results.
It program is a pack of:
* personality tests (Over 1000 questions),
* personality statistics and summary outcome
* games / fun (Graphical, textual, interactive stories etc)
* birthday analysis (What tree did you fall from? etc)
* you can set up to 3 completely different users at the same time!
...and much more that will make you realize about your character learn more about psychology and of course have fun.
Model:
Blackberry 81XX Series (240*260) Pearl Devices Models: 8100, 8110, 8120, 8130/Blackberry 82XX Series (240x320) Pearl Flip Devices Models: 8200, 8220, 8230/Blackberry 8350i (320*240) Related Devices Model: 8500, 8520, 8530, 9300/Blackberry 83XX Series (320*240) Curve Devices Models: 8300, 8310, 8320, 8330 / Blackberry 87XX Series (320*240) Devices Models: 8700c, 8700r, 8700f, 8700g, 8703e, 8707, 8707g, 8707v .etc /Blackberry 88XX Series (320*240) Devices Models: 8800, 8820, 8830 .etc /Blackberry 89XX Curve Series (480*360): 8900(Javelin), 8910(Atlas), 8950/Blackberry 90XX Bold (Onyx) Series (480*320) Devices Models: 9000, 9020(Onyx)/Blackberry 96XX Tour (Niagara) Series (480*360):9600, 9630, 9650(Tour2), 9700(Bold2) /Blackberry Pearl 3G Series (360*400) Devices Models: 9100, 9105