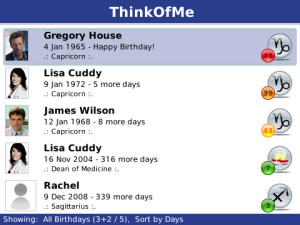 Tag:
ThinkOfMe
Overview :
free ThinkOfMe v1.3.4 - blackberry apps download
Description:
ThinkOfMe - A beautiful reminder app for all sorts of occasions: birthdays, anniversaries, wedding day, name days and so on.
From the reviews: "Beautiful interface. Programs like this make our BlackBerry® better."
Also reviewed and featured by CrackBerry.com and Berryfication.com - Check them out.
ThinkOfMe was also featured in the Keynote of BlackBerry Developer Conference 2010 and a Regional Selectee of the SuperApps Developer Challenger 2010.

*** NEW: ThinkOfMe now supports up to four additional birthdays per address book contact for related persons like kids or grand kids, just enter them in the user / custom fields. See Help & FAQ how to do that. ***

Ever forgot your mother's birthday or every forgot your wife's or husband's birthday? Forgot your own or your parent's wedding day?
Do you wish you had somebody you can rely on that reminds you when an important day is coming up so you never get in such an embarrassing situation again?
ThinkOfMe is this somebody. It will discreetly remind you of any upcoming birthday, anniversay etc you have in your BlackBerry® address book.
And if you are missing the birthday for a contact, just send them a SMS from ThinkOfMe to ask for it. When they reply, ThinkOfMe will take care of all and automatically update your address book.
ThinkOfMe will also discreetly remind you a second time of somebody's birthday if you haven't contacted them yet after a few hours of the first reminder.
By downloading ThinkOfMe today you can stop worrying about forgetting those important days in your loved ones' and friend's lives.
ThinkOfMe doesn't need any setup and starts working straight after installing it. It does not drain your battery either.
Don't forget to follow us on Twitter (@4peoplesoftware) to get the latest updates and news.
Model:
Blackberry 8350i (320*240) Related Devices Model: 8500, 8520, 8530, 9300(Kepler), 9330/Blackberry 89XX Curve Series (480*360): 8900(Javelin), 8910(Atlas), 8930, 8950, 8980/Blackberry 90XX Bold (Onyx) Series (480*320) Devices Models: 9000, 9020(Onyx)/Blackberry 96XX Tour (Niagara) Series (480*360):9600, 9630, 9650(Tour2), 9700(Bold2), 9780, Dakota, Apollo /Blackberry 95XX Storm Series (360*480):9500, 9510, 9520, 9530, 9550(Storm2), 9570(Storm3), 9800(Torch), Torch2/Blackberry Pearl 3G Series (360*400) Devices Models: 9100, 9105, 9670(Style)