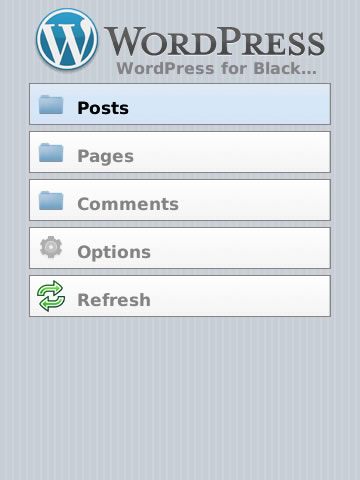 Tag:
WordPress
Overview :
WordPress v1.4.6 for blackbery apps download
Description:
It's been a few months since WordPress last updated their application for BlackBerry smartphones. Recently they announced that beta version 1.4.6 (aka 1.4.5.2) is now available for download. According to the WordPress for BlackBerry Developer Blog, this beta version addresses some security issues and doesn't include new features (yet). Other changes include:
Improved the communication layer.
You can now select which type of the Media API that should be used for uploading photos and videos.
Fix for VideoPress issue when uploading multiple videos.
Fix for app permission issues that could freeze the app if all permissions are not set to Allow.
Fix for postID that are bigger than the XML-RPC specification.
Improved the XML-RPC calls.
Improved the preview screen, which is now using the BlackBerry browser or any browser installed on your device.
Fix for post/page comments setting that allow people to post comments on new articles created using the app.
Other minor changes.
Model:
Blackberry 81XX Series (240*260) Pearl Devices Models: 8100, 8110, 8120, 8130/Blackberry 82XX Series (240*320) Pearl Flip Devices Models: 8200, 8220, 8230/Blackberry 8350i (320*240) Related Devices Model: 8500, 8520, 8530, 9300(Kepler), 9330/Blackberry 83XX Series (320*240) Curve Devices Models: 8300, 8310, 8320, 8330 / Blackberry 87XX Series (320*240) Devices Models: 8700c, 8700r, 8700f, 8700g, 8703e, 8707, 8707g, 8707v .etc /Blackberry 88XX Series (320*240) Devices Models: 8800, 8820, 8830 .etc /Blackberry 89XX Curve Series (480*360): 8900(Javelin), 8910(Atlas), 8930, 8950, 8980/Blackberry 90XX Bold (Onyx) Series (480*320) Devices Models: 9000, 9020(Onyx)/Blackberry 96XX Tour (Niagara) Series (480*360):9600, 9630, 9650(Tour2), 9700(Bold2), 9780, Dakota, Apollo /Blackberry 95XX Storm Series (360*480):9500, 9510, 9520, 9530, 9550(Storm2), 9570(Storm3), 9800(Torch), Torch2/Blackberry Pearl 3G Series (360*400) Devices Models: 9100, 9105, 9670(Style)/Blackberry Playbook