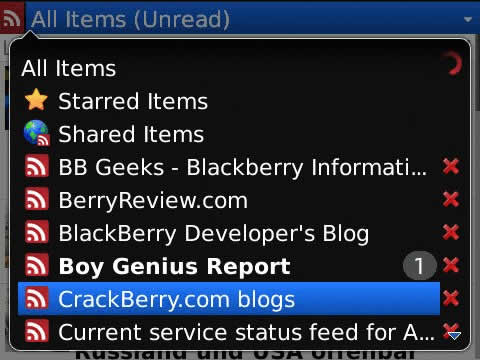 Tag:
BerryReader
Overview :
BerryReader v1.0 OS4.2+

Model:
Blackberry 71XX Series (240*260) Devices Models: 7100, 7110t, 7105t, 7100r, 7100v, 7100g, 7100x, 7100i, 7130e, 7130c, 7130g, 7130v/Blackberry 81XX Series (240*260) Pearl Devices Models: 8100, 8110, 8120, 8130/Blackberry 82XX Series (240x320) Pearl Flip Devices Models: 8200, 8220, 8230/Blackberry 8350i (320*240) Related Devices Model: 8500, 8520, 8530, 9300(Kepler)/Blackberry 83XX Series (320*240) Curve Devices Models: 8300, 8310, 8320, 8330 / Blackberry 87XX Series (320*240) Devices Models: 8700c, 8700r, 8700f, 8700g, 8703e, 8707, 8707g, 8707v .etc /Blackberry 88XX Series (320*240) Devices Models: 8800, 8820, 8830 .etc /Blackberry 89XX Curve Series (480*360): 8900(Javelin), 8910(Atlas), 8950/Blackberry 90XX Bold (Onyx) Series (480*320) Devices Models: 9000, 9020(Onyx)
Description:
BerryReader is a Google Reader client that allows you to read your Google Reader feeds on your BlackBerry everywhere you go, even when you do not have network coverage.
BerryReader always stays fully synchronized to your Google Reader account.
With BerryReader's inline article reading and beautiful user interface reading news on the BlackBerry has never been so easy.
Features:
Access your All Items, Starred Items, Shared Items, a single feed or a single folder for reading
Automatically update in the background every 15, 30, 45 minutes, 1 or 3 hours
Manage (add/remove) subscriptions from your device
Quickly toggle an article's Starred, Like, Unread and Shared labels or edit the article's tags for later filtering.
Read the current list even while offline, changes to labels and tags will be cached and automatically synced when network coverage is regained
Get notified whenever new articles are available (Includes custom LED color support through BerryBuzz)
Integrates into the device's messages list showing a BerryReader item whenever new articles are available
Easily switch between viewing of all or unread items only
Choose between compact and full article list layout and black on white or white on black color scheme
Automatically load thumbnails and full images for every article (Fully preload for offline viewing or when needed to conserve bandwidth)
Load 10, 20, 35, 50 or 75 items at once into the list. Load more items into the list by clicking the 'more' link at the end of the list.
Articles are automatically marked as read when opened
Mark all items in the current list as read with a single command
Swipe left/right on an article header to mark read/star the article (touchscreen devices only)
Hover over an article to open a shortcut popup for easy changing star/like/tag of an article (touchscreen devices only)
Fully optimized and compressed synchronization to keep your data usage at a minimum
Optimized for minimum memory and battery usage
7 days for trial.