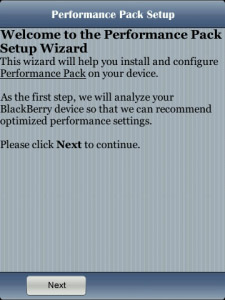 Tag:
Booster
storm apps
9370 apps
Performance
Overview :
A+ Performance Booster v1.2.0 for blackberry free apps
OS 4.7,5.0,6.0,7.0
Model : Pearl 9100 3G, Pearl 9105 3G, Curve 8520, Curve 8530, Curve 8900, Curve 8910, Curve 8980, Bold 9000, Curve 9300 3G, Curve 9330 3G, Tour 9630, Bold 9650, Style 9670, Bold 9700, Bold 9780, Bold 9788, Curve 9350, Curve 9360, Curve 9370, Storm 9500/9530, Storm2 9550/9520, Torch 9850/9860, Torch 9800, Torch 2 9810, Bold 9900/9930

Description:
Performance Pack will recover the lost/used up memory from the device making your applications
run faster and smoother. The app will optimize device performance by reclaiming unused memory instantly.
Now with customizable boost schedule and quick boost to free your Device memory, you have the power to free your Device Memory!
With Additional features such as WiFi Alert and Process monitoring.
Features:
Contains a full version of Performance pack for BlackBerry®.
Stop online dangers without sacrificing performance with fast, light protection for your device.
Finds and fixes your device problems automatically.
De fragments and cleans the registry so programs open quickly.
Optimizes your device for better performance.
Please give us a good review if you like this application!