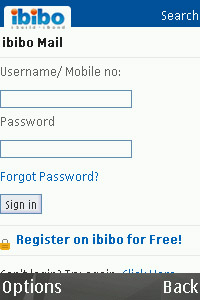 Tag:
Email
ibibo
Overview :
ibibo Email v1.0.0 for blackberry os4.3+ apps
Required Device Software
4.3.0 or higher
Supported devices:
Blackberry 83xx, 85xx, 87xx, 88xx, 89xx, 90xx, 91xx, 93xx, 95xx, 96xx, 97xx, 9800, 9810, 9860, 9900, 9930
Description
ibibo Email - Stay connected with your friends even when you are on the move. Access your ibibo email from your mobile phone to send and receive emails. ibibo email is easy to use and free of cost! Download to stay connected!