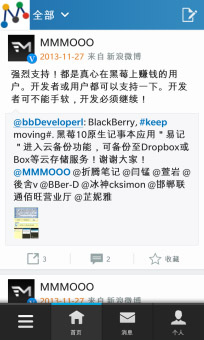 Tag:
Q10 apps
MoWriter
Overview :
MoWriter is a native of the BlackBerry, only for BlackBerry build microblogging applications. Starting from the BlackBerry OS, MoWriter is the application of a ratio of native Weibo to be more to the force, now on BlackBerry 10, too, although MoWriter no native Weibo then the standard function interface provides, but MoWriter still provides users very comfortable and convenient design.
Now, MoWriter has been updated in the BlackBerry World, the first class on the microblogging application provides a second set of topics, not only that, but also make full use of the advantages of the BlackBerry Push Push added support, and other than the native application to be more humane and personality, is a very rare piece of good applications.

The apps is free, supported devices: BlackBerry Q10, BlackBerry Q5, BlackBerry Z10, BlackBerry Z30, Porsche Design P9982

enjoy.