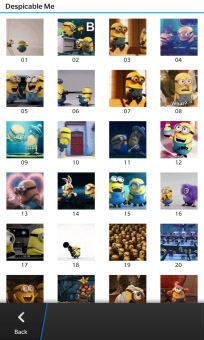 Tag:
Mega
Emoji
Overview :
Mega Emoji 1.3.4.1 is updated to 1.6.0.1 today and it will be changed the original name to: Sticker Symbol Emoticon Emoji for BBM
The new version has the following changes:
1. Add 2 groups of new animated gif: Bill and Paer, all are unique;
2. Add 4 new static emotions in the 'Funny' tab, all are very hot on web;
3. Smiley tab has been optimized more perfect now.
Quickly download for experience!!!!! The apps
support BlackBerry 10.
Model:
Blackberry 10 Devices: Blackberry Dev Alpha, Blackberry Z10, Blackberry Z15, Blackberry Z30, Blackberry A10, Blackberry Q30, Blackberry Q10, Blackberry Q5