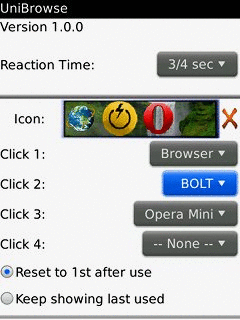 Tag:
UniBrowse
Overview :
UniBrowse for OS 4.7, 5.0
Description:
If you have more than one browser application installed on your BlackBerry smartphone then you probably know how tedious it can get when you have to use one or the other. For example, the main screen of my BlackBerry has the apps I use the most including the BlackBerry browser but sometimes I need to use BOLT Browser to view websites in their desktop version.
Recently added to the BBRocks! Store is an app called UniBrowse that offers a way to quickly access all your browsers from one icon. The app is simple to set up and easy to use. All you have to do is assign browser applications to certain clicks to have it launch by that amount of clicks. You can also choose how fast of a reaction the app has and if it resets to the first set browser or last used.
UniBrowse is available as a free download in the store for all BlackBerry devices running OS 4.2 or higher. Right now it supports only the BlackBerry Browser, BOLT Browser and Opera Mini, but you can request additional browser support by contacting the app developer, LSphone. Check it out and let me know what you think!
Model:
Blackberry 96XX Tour (Niagara) Series (480*360):9600, 9630, 9650(Tour2), 9700(Bold2) /Blackberry 95XX Storm Series (360*480):9500, 9510, 9520, 9530, 9550(Storm2)/Blackberry Pearl 3G Series (360*400) Devices Models: 9100, 9105