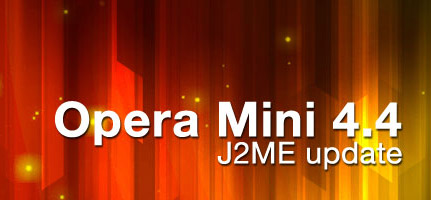 Tag:
9630 apps
Opera Mini
9550 apps
Overview :
Opera Mini v6.5.27025 for blackberry 4.7-5.0 apps
OS 4.7, 5.0
Model: Pearl 9100 3G, Pearl 9105 3G, Curve 8520, Curve 8530, Curve 8900, Curve 8910, Curve 8980, Bold 9000, Curve 9300 3G, Curve 9330 3G, Tour 9630, Bold 9650, Bold 9700, Storm 9500/9530, Storm2 9550/9520

Description:
With our love for Android and flashy phones it's easy to forget how important J2ME is. But the fact remains that lot of Opera Mini users with feature phones such as Nokia flip flops use it to go Online.
This makes J2ME one of the most important mobile operating systems out there.
Today we are happy to release an important update for these users: Opera Mini 4.4 is now available from m.opera.com .
This update provides J2ME users with the new and improved network features found in Opera Mini 6.5. We've also included several important stability and performance fixes. The most important fix is probably solving login issues with OperaLink. Samsung users should also find some updates and fixes in the user interface.