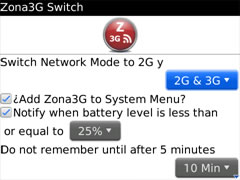 Tag:
Zona3G
Switch
Network
Overview :
Zona3G - Switch Network v1.1.2

Model:
Blackberry 82XX Series (240*320) Pearl Flip Devices Models: 8200, 8220, 8230/Blackberry 8350i (320*240) Related Devices Model: 8500, 8520, 8530, 9300(Kepler), 9330/Blackberry 83XX Series (320*240) Curve Devices Models: 8300, 8310, 8320, 8330 / Blackberry 87XX Series (320*240) Devices Models: 8700c, 8700r, 8700f, 8700g, 8703e, 8707, 8707g, 8707v .etc /Blackberry 88XX Series (320*240) Devices Models: 8800, 8820, 8830 .etc /Blackberry 89XX Curve Series (480*360): 8900(Javelin), 8910(Atlas), 8930, 8950, 8980/Blackberry 90XX Bold (Onyx) Series (480*320) Devices Models: 9000, 9020(Onyx)/Blackberry 96XX Tour (Niagara) Series (480*360):9600, 9630, 9650(Tour2), 9700(Bold2), 9780, Dakota, Apollo /Blackberry 95XX Storm Series (360*480):9500, 9510, 9520, 9530, 9550(Storm2), 9570(Storm3), 9800(Torch), Torch2/Blackberry Pearl 3G Series (360*400) Devices Models: 9100, 9105, 9670(Style)
Description:
Many of the recommendations to follow for save battery are: lower the brightness of light, close applications running in the background, turn off bluetooth and wifi when not in use, in addition to these suggestions one of the things that will make difference Battery life will be turning off its 3G network, doing this you will realize saving a big percent of battery during the day.
???
Change the network mode in the BlackBerry is annoying for all the steps to do: Open Manage Connections> Mobile Network Options> Network Mode> Switch to 2G.
Now with Zona3G you will not do all these steps, with a single click Zona3G will do it for you.
**Internet Activity Sensor**
Zona3G also has the option to detect when Internet activity exceeds the level preconfigured and notify and give you options to change the Network Mode to 3G to increase the Internet speed at the time. Also if this level of Internet activity is not exceeded during a time and the Network mode it's on 3G this will be notified and given the option to switch to 2G to save battery.
**Low Battery Sensor**
It also detected when the battery level is below the threshold previously set and will be told to change their network to 2G to save battery.
**Features**
◊ Change the Network Mode with one sigle click through the Icon or the Zona3G Menu Item.
◊ Notify and change to 3G for High Internet activity (pre-selectable sensitivity)
◊ Notify and change to 2G for Low Internet activity for Saving Battery
◊ Notify and change to 2G for Low Battery (pre-selectable level)
◊ Removable Menu Item
Note:
◊ You must enable all permissions requested by the application.
◊ While the Network mode switch is being done do not press any key or move the cursor because it would affect the process.
◊ When your Battery is Low the Application doesn't notify about change your network mode to 3G because this reduces the life time of your battery.