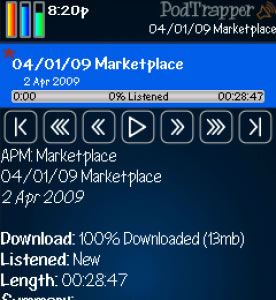 Tag:
PodTrapper
Overview :
PodTrapper Beta v3.0.6 for blackberry apps download
Description:
Podtrapper is a robust podcast player and download manager for BlackBerry® devices. Podcasts are radio shows available for free on the web.
Features:
* Automatic downloading of new episodes via Wifi, Cellular and Desktop
* Keeps track of last played podcast
* Remembers where you left off in every episode and file
* Reliable pause and resume of downloads when connectivity changes
* Pauses for phone calls and resumes when completed
* Built in large file downloader for downloading files from the web
* Allows for bookmarked playback of any file on the device
* Support for video podcasts supported by your device
* Automatic playlist management
* Automatic deletion of old episodes if configured
* Full storm touch support may need to disable compatibility mode .
Try if free for 30 days!
VersatileMonkey is always interested in user feedback, utilize the Email Developer menu item inside PodTrapper to send us anything you think we could improve on.
Model:
Blackberry 81XX Series (240*260) Pearl Devices Models: 8100, 8110, 8120, 8130/Blackberry 82XX Series (240*320) Pearl Flip Devices Models: 8200, 8220, 8230/Blackberry 8350i (320*240) Related Devices Model: 8500, 8520, 8530, 9300(Kepler), 9330/Blackberry 83XX Series (320*240) Curve Devices Models: 8300, 8310, 8320, 8330 / Blackberry 87XX Series (320*240) Devices Models: 8700c, 8700r, 8700f, 8700g, 8703e, 8707, 8707g, 8707v .etc /Blackberry 88XX Series (320*240) Devices Models: 8800, 8820, 8830 .etc /Blackberry 89XX Curve Series (480*360): 8900(Javelin), 8910(Atlas), 8930, 8950, 8980/Blackberry 90XX Bold (Onyx) Series (480*320) Devices Models: 9000, 9020(Onyx)/Blackberry 96XX Tour (Niagara) Series (480*360):9600, 9630, 9650(Tour2), 9700(Bold2), 9780, Dakota, Apollo /Blackberry 95XX Storm Series (360*480):9500, 9510, 9520, 9530, 9550(Storm2), 9570(Storm3), 9800(Torch), Torch2/Blackberry Pearl 3G Series (360*400) Devices Models: 9100, 9105, 9670(Style)