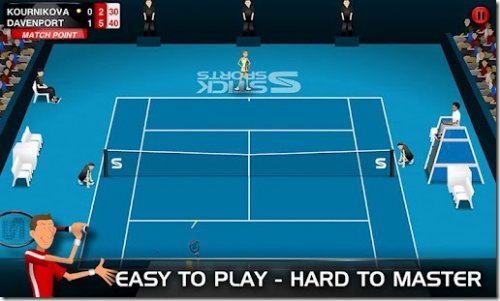 Tag:
Stick Tennis
Overview :
Stick Tennis is in a great Tennis game, if you are interested in Tennis, it can help you experience Tennis master's feeling in the PLAYBOOK . A simple puzzle, friends like it might as well play download.

File Size: 2768 KB
Required Device Software:
Tablet: 1.0.8 or higher

Description:
Anyone for tennis?
Easy to play yet difficult to master, Stick Tennis offers fast and fluid gameplay with realistic court surfaces and a huge range of unique player styles and characteristics.
With just a simple one-fingered swipe you'll soon be thumping crosscourt winners, yet at the core of Stick Tennis is a highly sophisticated physics engine that rewards tactical play.
Take on the all-time greats in World Domination, play as your favorite player in the Slams or try your hand at the Daily Challenge on one of ten courts from around the globe.
New balls please!
***
New York Times
"If you're into tennis even just a bit you may love Stick Tennis. It has cute graphics and surprisingly good gameplay."
PC Advisor
"A remarkably intuitive tennis game. We really like Stick Tennis for Android."
Pocketgamer 'Top Ten'
"It's often better when sports games go all out for raw, demented playability. Stick Tennis demands instant reactions. Get this."
***
Basic features:
* WORLD DOMINATION (Levels 1-4): Start your quest for World Domination by taking on four of the greats from yesteryear.
* DAILY CHALLENGE: One match, one chance! A new challenge match is served up each and every day. See how you stack up in the worldwide rankings.
* CASUAL SETS TENNIS CLUB: Improve your game at the Casual Sets Tennis Club. Enjoy a hitout with the likes of Martina Shankitova as the Prac-O-Meter helps improve your timing.
Available in-app purchases:
* WORLD DOMINATION (All 32 levels): Can you beat them all? Do battle with 32 tennis legends - both male and female - in the ultimate quest to dominate the world.
* THE SLAMS (first round free): Pick your favorite seed and go for glory in the USA, England, France and Australia Slams. Every match is an exhilarating do-or-die clash - do you have what it takes to become a Slam champion?