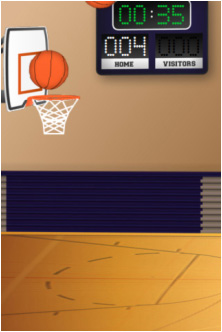 Tag:
Hoops
Overview :
Hoops v2.0 for playbook games
File Size: 3580 KB
Required Device Software:
Tablet: 2.0.1 or higher

Description:
Try the new-and-improved Hoops for BlackBerry®! Like basketball? Like someone who likes basketball? Feel like a basketball? You don't need to be a pro to be a pro at Hoops. All it takes is a swish of a finger! Hoops is a fun and free game that lets you play basketball wherever you go. How high can you score? Hoops includes real-world physics to simulate the behavior of a basketball, backboard and net, and includes real sounds to help you live the action, and the dream ... if you dream of this kind of thing. It includes three modes -- Free Play, Time Trial and Streak. Think you've got what it takes to be a super star?