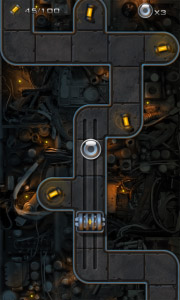 Tag:
Dark Nebula
Episode One
Overview :
Dark Nebula: Episode One v1.0 for blackberry playbook games
File Size: 28178 KB
Required Device Software:
Tablet: 2.0.0 or higher

Description:
Put your skills to the test in Dark Nebula: Episode One, an extreme labyrinth game packed with break-neck action. Tilt your PlayBook to blaze through exciting levels where you must avoid dangerous traps, dodge bullets and cheat death in every corner! Episode one features eleven action packed levels that will have you bouncing, sliding and spinning all the way to the finish line! Complete the game with Gold Star results on all levels and prove that you are the true master of Dark Nebula!
Features:
11 action-packed levels
Leap over obstacles, slide past lasers, unlock doors
Collect capsules to earn a gold star for each level
Explore the reaches of space in sharp detail
For more awesome Union games click here: http://bit.ly/N72CEU
Follow us on Twitter @UnionUnity3D