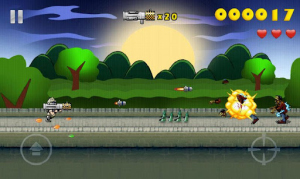 Tag:
Monster Dash
Overview :
File Size: 4507 KB
Required Device Software:
Tablet: 2.0.0 or higher

Description:
Want to dash through wave after wave of monsters, Monster Dash give you that! This game is a truly outstanding arcade game with beautiful scenes, good music and of course special weapons pickups for you to blow away those nasty monsters. Your protagonist is a brave warrior who is fighting alone against the darkness. Try your best to survive and run as far as possible. Welcome to the world of Monster Dash !!!Game rules: - Tap "Jump" button to jump - Tap "Jump" button and hold for long jump - Tap "Fire" button to fire Lets dash !!!