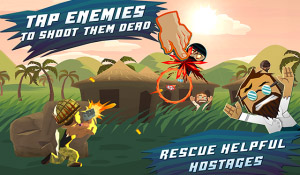 Tag:
Union
Major Mayhem
Overview :
US$2.99
File Size: 23627 KB
Required Device Software:
Tablet: 2.0.0 or higher

Description:
Guns, grenades, and girls--Major Mayhem marches onto BlackBerry PlayBook with bad guys to beat and a girlfriend to save. Developer Rocket Jump delivers 45 levels of intense shootouts and daring acrobatics, all while wielding a variety of weapons from shotgun to mini-gun to the intimidating Quadzooka--but enough chit-chat! It's time to save the world, rescue your girl, and look good doing it.
Features:
45 levels of heart-pumping action
5 unique power-ups
Beat the Forces of Evil on their home turf in the Tropics, then take the fight to the Metropolis and Desert
20 weapons including automatic shotgun, mini-gun, and Quadzooka!
Intuitive tap controls make it easy to get into the action
FOR MORE AWESOME UNION GAMES CLICK HERE: http://bit.ly/N72CEU
Follow us on Twitter @UnionUnity3D



i hope you like it.