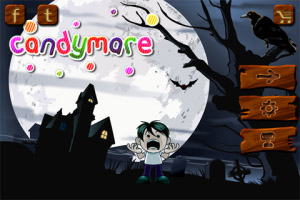 Tag:
CandyMare
NoisyNinja
Overview :
FREE CandyMare 1.0 games for Blackberry Playbook
File Size: 23210 KB
Required Device Software:
Tablet: 1.0.0 or higher

Description:
Joey had too many candies and is having nightmares, guide him through insane puzzles with ghosts and monsters blocking his way to the candy factory.
• Play the full game for free.
• Teleport your way out of a tough spot.
• Avoid deadly hallucinating mushrooms.
• Collect all 3 stars per level.
• Track your achivements.
• 3 chapters and 60 levels of candy adventure.
• A puzzle unlike any you have played before.
• More chapters, crazy levels and new powerups coming soon!