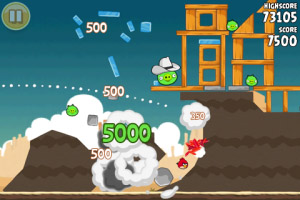 Tag:
Angry Birds
playbook gam
Overview :
Angry Birds v2.2 for playbook games
Required Device Software:
Tablet: 1.0.0 or higher

Description:
Use the unique powers of the Angry Birds to destroy the greedy pigs' defenses!
The survival of the Angry Birds is at stake. Dish out revenge on the greedy pigs who stole their eggs. Use the unique powers of each bird to destroy the pigs' defenses. Angry Birds features challenging physics-based gameplay and hours of replay value. Each level requires logic, skill, and force to solve.
"Lemme tell ya, these ain't no ordinary finches we're talkin' about. These here are the Angry Birds, the ones that's gonna kick you in the 'nads. And they're the ones on your side. They must be from Galapadapados, or sumptin'." – Col. Angus, Bird Expert.
Protect wildlife or play Angry Birds!
What's new in version 2.2.0:
The piggies continue their beach vacation with fifteen new tropical levels -- but the vacation's gonna end when the birds show up!
Terms of Use: http://www.rovio.com/eula
Privacy Policy: http://www.rovio.com/privacy