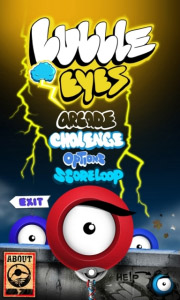 Tag:
Bubble Eyes
Overview :
A very interesting Arcade Game, cool game screen.

Required Device Software:
Tablet: 2.0.0 or higher

Description:
Need a break in work or study? Got bored waiting at the airport or in a restaurant? We would like to offer you our Bubble Eyes game. Enjoy the chain reaction of popping bubbles when you shoot. The goal is to clear the stage from all bubbles which seems to be an easy thing to do but only on first few levels. Lots of levels for long time fun!
Features:
- lots of levels
- unique graphics
- easy to use interface
- social integration

i hope you like it. enjoy.