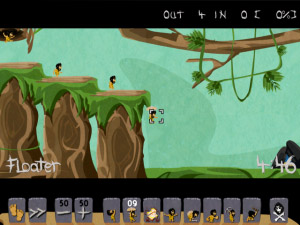 Tag:
Caveman
Overview :
free Caveman HD Lite v1.1.0.4 for playbook games
Required Device Software:
Tablet: 2.0.1 or higher

Description:
LETS GO! ... OH NO! (or.. YIPEE!)
- full featured (no nags, limits)
- contains 10 fully playable levels
- completely free - yes, we said free!
Caveman is a game where the goal is to guide Cavemen to the exit on the level.
:: GAME PLAY
Cavemen enter the level through an open hatch and walk aimlessly to their death or around in circles following the path outlined - specific skills can be assigned to Cavemen to create a new path and help guide the others to the designated exit.
The following skill sets are available:
- CLIMBER: scale those walls
- FLOATER: float down to safety
- EXPLODER: pop!
- BLOCKER: block the path
- BUILDER: build a bridge
- BASHER: bash a horizontal path
- MINER: mine a diagonal path
- DIGGER: dig a vertical path
Each level has a set of requirements to complete where a combination of skillsets may need to be used to solve the level - there is more than one solution available; how many cavemen can you save!
:: SOLUTIONS
Mobile 1UP has worked very hard to ensure that all levels are solvable; a complete set of solution guides for every level are available on the Mobile 1UP website (high definition video and detailed walk throughts) - of course the challenge is being able to solve them on your own!
:: CREDITS
Caveman is a game inspired by the classic Lemmings developed by Psygnosis released for Amiga, DOS, et al in 1991. The project started as a port of the game, but due to intellectual property concerns the game was given a new set of graphics, audio and some custom levels to bring the game genre up to the standards expected by gamers in this era. The game was developed by Aaron Ardiri, the graphics provided by Tomas Miller, and the sounds were provided by Michael McGee.