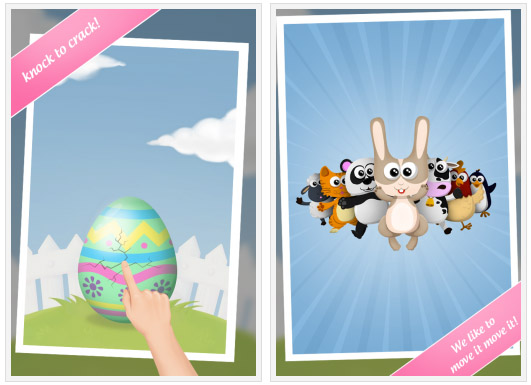 Tag:
Egg Knock Li
Overview :
Egg Knock Lite v1.0 for playbook games
Required Device Software:
Tablet: 1.0.0 or higher

Description:
*** To see the demo video, please visit http://bit.ly/eggknockvideo ***
*** To get Egg Knock FULL version, please go to this link and download it http://bit.ly/eggknockpb ***
Crack open heartwarming surprises with Egg Knock, watch adorable animals dance along to classic melodies.
Easy to use, simply tap one of seven random eggs several times and a cute creature will spring upward, ready to play. This is a simply mesmerising app that will entertain small children throughout the day.
Animals include a baby:
♪ Chick
♪ Penguin
And in the FULL version :
♪ Kitten
♪ Bunny
♪ Sheep
♪ Panda
♪ Cow
♪ Piglet & Puppy (Coming soon in new update)
Engaging and charismatic, Egg Knock is a valuable educational app for early development. Cheerful animations and interactive gameplay gently kindle young minds without over-stimulating, laying a foundation for future learning.
Egg Knock was specifically designed for small children. It provides toddlers and preschoolers with a pleasant distraction while parents run errands or during special events. Large objects enable fluid navigation for all ages, so kids are kept busy and happy. It's pure fun!
Join fuzzy friends as they hatch to life and move to a soundtrack of gleeful music.
Features:
* Loveable characters.
* Each animal has its own special dance.
* Easy-to-use, intuitive navigation.
* Appropriate for ages 2 and up.
* Designed for toddlers and preschoolers.
* Kids can play on their own or with siblings and friends.
* Ideal for the backseat of the car.
* Educational and practical.
We love to help your little ones to learn and are always giving away promotional items to those who
FOLLOW US ON : twitter.com/hompimplay
LIKE US ON : facebook.com/hompimplay
======================================================================================
If you're looking for ABC game for your little one, let's check out our award winning ABC-Day game.
* ABC-Day FREE Version * http://appworld.blackberry.com/webstore/content/57423/
* ABC-Day FULL Version * http://appworld.blackberry.com/webstore/content/53663/
* Watch the demo video * http://bit.ly/abcdayvideo