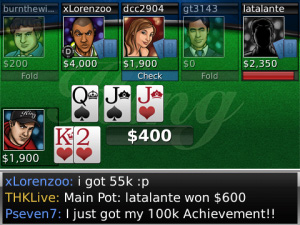 Tag:
texas
Overview :
Texas Hold'em King LIVE v1.1.4 for blackberry playbook games
Required Device Software:
Tablet: 2.0.0 or higher
Description:
The premiere online poker experience on App World!
Texas Hold'em King Live (THK Live) is the latest version of Magmic's
Mobile Poker franchise and best of all it's free. THK Live is fast, smooth
and fun to play. Compete against players from all over the world,
perfect your strategy and prove that you have what it takes to become a
Poker King.

*THK Live BETA now available on the Playbook!*
*******
"If you're looking to play some poker on your BlackBerry smartphone, then
the obvious choice for that is Texas Hold' Em King Live." - CrackBerry
*******
Game Features:
- Free To Play
- In Game Chat 2.0
- Unlock Over 35 Achievements ***
- Automatic Table Selection
- Over 30 Stylish Avatars
- Free Content Updates
*** Achievements not yet available on PlayBook
=====================================
Follow us on Twitter or Like us on Facebook for THK Live Updates!
www.twitter.com/magmic
www.facebook.com/magmic