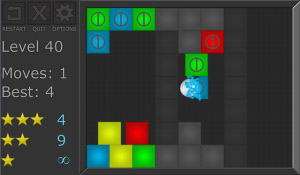 Tag:
Gravity
Overview :
Ode to Gravity v1.0.13 for blackberry playbook games
Required Device Software:
Tablet: 1.0.0 or higher

Description:
Change the direction of gravity and cause blocks to collide with each other in this tricky puzzle game.
Ode to Gravity features 70 different levels - they start off easy but don't be fooled! Levels will gradually get harder
and introduce new gameplay elements, each with their own twist. You'll have to match all the colored blocks while
dealing with special elements such as saw blades, painters, gates and more.
Ode to Gravity is simple to learn but difficult to master.

We hope you like the game. ENJOY!!