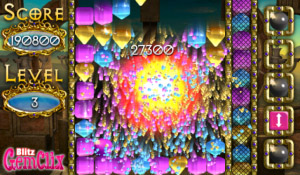 Tag:
TwitchArcade
Overview :
TwitchArcade v1.5.0 for blackberry playbook games
Required Device Software:
Tablet: 1.0.0 or higher
Description:
Purchase now and get 12 games! Any future games added are FREE. Twitch Arcade is a multi game app with online scores for each game. Share your top scores on Facebook and Twitter! Twitch Arcade will provide endless hours of fun for the entire family. Plus you'll get even more out of your purchase because all updates and any future added games are 100% free!
Twitch Arcade v.1.5 comes with the following 12 games: GemClix Blitz, Kid-N-Zombies, Mator Command, Fish Munch, Space Rush, BalliesShoot, Balloon Pop, Ballies, Popcorn Rush Classic, CarChaos, BallieBuster, SheepEm!
Download Help: Twitch Arcade is a large installation due to the number of games it comes with. If the app doesn't download correctly the first time or appears to be stuck, you should stop downloading the app, reboot the device and try again.
Performance Settings: Twitch Arcade has two performance settings selectable by tapping on the light next to the area where you enter your name. Tap on the light to switch between GREEN (high performance) and YELLOW (normal performance). Twitch Arcade defaults to high performance mode. If your device seems to be lagging a bit in performance, click on the light until it becomes YELLOW to place the device into normal performance mode.
Twitch Arcade Features:
* Local and online scores
* Share your top scores on Facebook and Twitter
* 100% NO ADS
* All games unlocked, play any game, any time
* No downloading from the internet, games come pre installed
If you enjoy the Twitch Arcade, please write a great review as it will help us keep improving Twitch Arcade.
We hope you enjoy the Twitch Arcade!

If you like the bb playbook games, Please share to your friends!