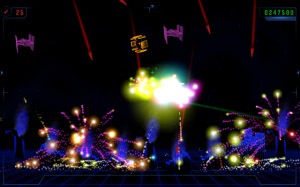 Tag:
PlayBook
MissileRush
Overview :
MissileRush v1.0.1 for blackberry playbook games
Required Device Software:
Tablet: 1.0.0 or higher
Description:
MissileRush is a retro inspired missile command action game. Protect your bases at all costs!
Instructions: Tap on the screen to launch a missile at incoming enemies, asteroids and other enemy baddies. Try not to let any of the incoming baddies destroy your bases.
- Colorful retro style graphics
- Great "pick up and play" game
- Particle based fx
- Dynamic sound fx and music
- Free upgrades!
If you like MissileRush, please write a great review and tell all your friends about the game. It will help us to keep on improving MissileRush for your BlackBerry® PlayBook™.
We hope you enjoy playing MissileRush and we welcome your feedback!
Version History:
v1.0.0. - Initial release.