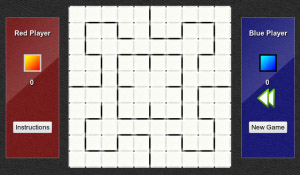 Tag:
PlayBook
Boxes
Dots
Overview :
Dots + Boxes v1.0.2 - playbook games
Required Device Software
1.0.0 or higher

Description:
Dots + Boxes is a addicting game of strategy and luck. Play against the computer or a friend to see who can conquer their opponent.
Start from scratch on a blank game board or challenge yourself with a random pre-filled template.
Just like the classic paper and pencil game only modernized this game is optimized for touch complete with sound and animation.