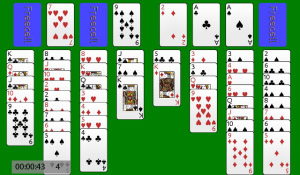 Tag:
PlayBook
SoloDeck
Overview :
SoloDeck v1.3.1 for BlackBerry PlayBook Games
Required Device Software:
1.0.0 or higher
Description:
*** Version 1.3 *** introduces new game statistics organized by game rather than for the app as a whole. There are also a number of improvements to overall game play and control.
SoloDeck is a collection of solitaire card games for your BlackBerry® PlayBook™. Included at this time are four games: Freecell, Klondike, Scorpion, and Memory.
The free trial edition of this app is a fully functional counterpart to the paid edition, with one exception: the trial edition closes after each game played, requiring you to restart the game.
Freecell, Klondike, and Scorpion are based on popular classic games. Memory is a game that challenges you to remember the position of cards, when you briefly flip them over, and remove them from the screen in matched pairs by denomination.
The app has been designed to maximize use of the screen as the play surface. The main screen consists of the layout with the playing cards, and nothing else, just as you might see it on a real table. There is nothing else on the play surface to distract you from the game itself. Game play is simple and intuitive; you drag a card or cards from one pile to another with your finger. However, if you want to keep track of the game playing time and score, there is an option to place a "score board" on-screen. It does not interfere with game play, and can be made visible or hidden at will.
But there is more. Using left and right gestures, you can navigate to the Options, Statistics, and Help screens where you can control aspects of the game, view statistics, and link to our website for more details and playing guides. You can also get to these screens by swiping down to reveal the app's navigation menu.
Game features include:
- multiple built-in game types (Freecell, Klondike, Scorpion, and Memory)
- shortcuts for legal multiple-card moves when possible (Freecell)
- fully integrated with your BlackBerry PlayBook tablet's user interface
- intuitive drag and drop game play
- game statistics including hands played, won, lost, and best time, saved between sessions
- popup context menu for game options
- undo move, restart game
- statistics can be reset
- selectable card design
- animation effects...as you drag cards over target piles, the targets appear to "pulse" with a heartbeat
- adjustable audio level
- some games feature auto move, which can be turned off
- alternate screen layout for Klondike, more convenient for right-handed players
- backed by our website that provides game information, and links for support