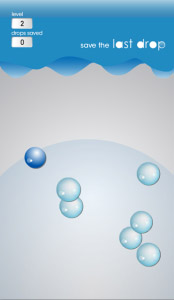 Tag:
Drop
Last
Save
Overview :
free Save The Last Drop v1.0.0 for blackberry playbook games download

This is a two-part app which is both EDUCATIONAL and ENTERTAINING.
The "Save the Last Drop" game is about tapping each drop before they hit the ground. This is a metaphor for water conservation, and you as the gamer are helping us in this process. Each level gets more difficult, while every time you play it becomes more addicting.
The "educate me" section is a creative display of some facts you might not know about water scarcity, opening your eyes to just how precious it is, and what might happen if we don't do anything to help.