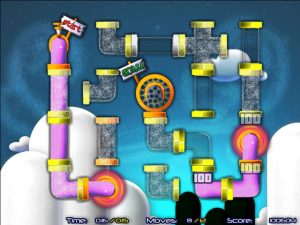 Tag:
playbookgame
Aqualux
Overview :
Aqualux for playbook games
Required Device Software: 1.0.0 or higher
Description: Found every hidden object there is? Couldn't match another 3 to save your grandma's poodle? Get enough Maniacal DASH-ing at work? Go with a whole new flow with Aqualux, a mind-bending puzzle experience from Milkman Games!
Swap, twist, turn, slide and teleport magic pipes to guide the flow of aqua to the drain before the clock runs out! With portals, switches and gates, unlockable secrets and more- you've never played a pipe game like this!
Features:
*Unique blend of slider puzzles and arcade classics
*100 Levels of Brain-twisting challenge
*Toe-tappin' tunes and eye-poppin' graphics
Win trophies and unlock secret game modes
*Fun for Everyone- 3 unique game modes for beginning, intermediate, and advanced players
Price: 2.99