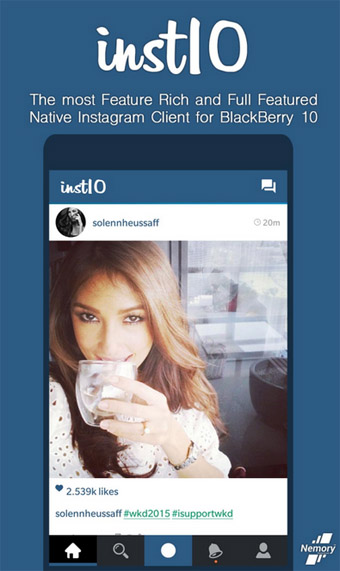 Tag:
Passport
Inst10
Overview :
Welcome to the most Feature Rich and Full Featured Native Instagram Client you can find for BlackBerry 10!
Instagram is a simple way to capture and share the world's moments. Transform your everyday photos and videos into works of art and share them with your family and friends.
★ GREAT FEATURES ★
✔ (NEW) Video Uploading (v2.0+)
✔ (NEW) Video Recorder (v2.0+)
✔ (NEW) Video Editor with Great Filters (v2.0+)
✔ (NEW) Regram Video Posts to your own Feed (v2.0+)
✔ (NEW) Prioritized Notifications (v2.0+)
✔ Unlimited Multi Accounts Support
✔ All features of Instagram you see on other platforms are available on #inst10
✔ Buttery Smooth, Fluid, Fast, Beautiful and Customizable UI
✔ User Friendly UI and Experience
✔ Create/Register an Account
✔ Upload and Post Photos
✔ Send Direct Messages
✔ Receive Headless Hub Integrated Notifications
✔ Great Emojis + Emoticons Keyboard
✔ Compose and reply from the BlackBerry Hub
✔ Re-Gram and Re-Direct Posts
✔ Share a photo from anywhere to #inst10
✔ Edit your Pictures with an Advanced Editor + Filters
✔ Save Images and Videos
✔ Find friends from Facebook
✔ Find friends from Contacts
✔ Multi Post to Twitter and Facebook
✔ Switch to Dark Theme
✔ Change overall Color Schemes
✔ Set your overall App Wallpaper + a Wallpaper Store
✔ Put more security with adding an App Security Password Layer
✔ OS Search Integration with BlackBerry Assistant
✔ Secured and Safe Network Connection: See http://goo.gl/iNZxEi
★ SUPPORTED DEVICES and OSes ★
✔ All BlackBerry 10 Devices and OS 10.2.1+ are supported and optimized for #inst10
★ PERMISSIONS ★
– BBM: Share with your BBM Friends
– Camera: Capture and Post Photos
– Contacts: Find Friends from Contacts
– Device Identifying Info: To detect which device you use for optimizations
– Location: For searching locations and posting geo photos
– Shared Files: To save images and videos, import media from gallery
★ NOTES ★
– See what people say about #inst10: http://goo.gl/QzVYZp
– if you have issues, please send us an email: nemorystudios@gmail.com, if you post your issue as BlackBerry World Review, we may not be able to help you directly
– We also have a BBM Channels Chat Support: C0042916B
– If you have any questions or problems please visit FAQS: http://goo.gl/PDSv7L
– #inst10 doesn't support Video Uploading yet.
– #Inst10 is COMPLETELY FREE for 2 days Trial, after that it's still free and will work but some features will be limited and will require a Pro Upgrade
Supported Devices:
BlackBerry Classic
BlackBerry Leap
BlackBerry Passport
BlackBerry Passport Silver Edition
BlackBerry Q10
BlackBerry Q5
BlackBerry Z10
BlackBerry Z3
BlackBerry Z30
Porsche Design P9982
Porsche Design P9983